School Fundraising Made Easy!
Put the fun back in fundraising with Livingtree's online fundraising tools.
Sign up for free
Create online fundraisers with Livingtree
Did you know that running an online fundraising campaign increases total giving by up to 40%? Livingtree's easy fundraising campaign interface lets you build a campaign in minutes. The simple point and click interface allows you to create a custom fundraising campaign or use a pre-built Livingtree template.
Build great campaigns in minutes
Set giving donation options and the length of time to run your campaign
Add videos and pictures
Use and modify pre-built campaign templates
Use Stripe or PayPal to collect funds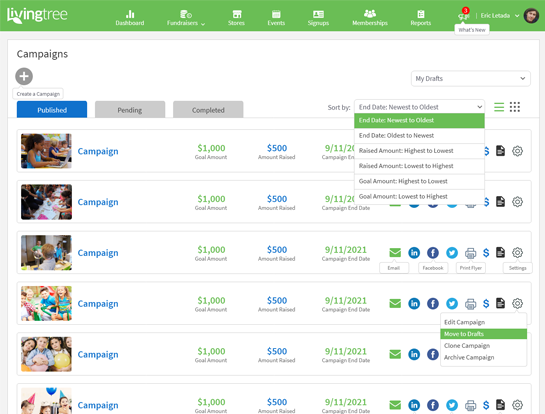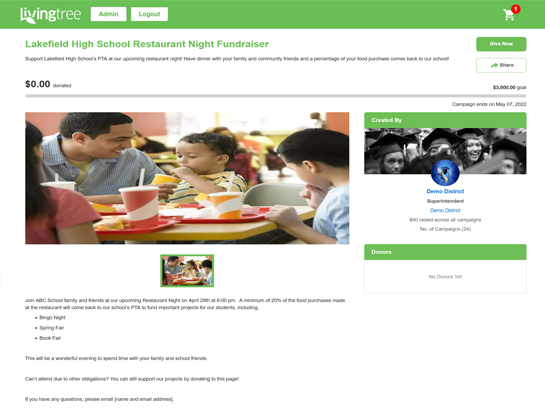 Reach 1,000s of donors
Livingtree's contact management database lets you promote your fundraiser to all of your members and contacts with a few clicks. We also feature built-in social media tools to promote your campaign and reach many more donors nationwide easily.
Our built-in categories include:
Powerful reporting tools
See at a glance how well your campaigns are doing in real time. Know how much you have collected, which campaigns are working and who is engaging with your efforts and organization.
Compare multiple time periods and compare campaigns
Learn who is donating and how much
Save, export and print reports
Much more!